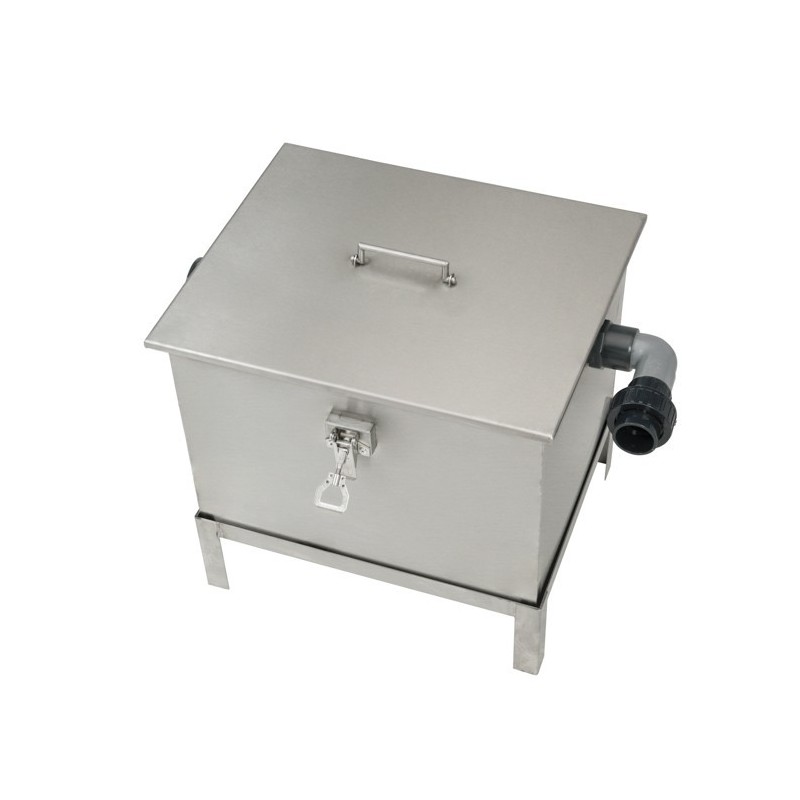 View larger
BAGT 25
Online only
The under-sink grease trap
The under-sink grease trap BAGT 25 is designed to be installed under the commercial sink of the kitchen, for catering professionals, butcher shops, bakeries and food service traders. Entirely made of food grade 304L stainless steel, you are guaranteed high quality and durability. It does not work under an electrical connection, so it does not fail. You can close the lid by means of latches, for the good sealing of the grease trap. You can put the feet, provided in the delivery of your under-sink kitchen grease trap, for a more convenient cleaning. You can adjust the height of the tank by cutting or removing the feet. Optionally we provide plumbing fixtures, so you do not waste time searching for the necessary items. The recovered fats are recoverable in the UCO (used cooking oil) sector.
Good value for money
Quality: Robustness and durability
3 years warranty
"Accessories included"
2 Item Items
Warning: Last items in stock!
Availability date: 11/02/2018
Obligations of restaurateurs and catering professions:
Local authorities have implemented regulations, departmental health regulations, for their affiliates. The companies of the bars, hotels and restaurants sector AND COMMERCIAL CATERING are thus obliged to pretreat the swill before rejection. From now on, it is forbidden to reject grease in the wastewater networks.
Grease traps, whether they are buried grease traps or not, allow you to recover solid waste and grease.
Material design:
The BAGT25 was designed for all restaurants that serve up to 30 people a day. It is made of 304L stainless steel, food grade, and finds its place in professional kitchens.
The waste basket has a volume of 4 liters and a mesh of 2mm to filter fine solid waste. The basket can be used to pick up fat when it is frozen. The BAGT®25 grease trap has a storage capacity of 2 liters of fat, equivalent to 100 covers (20g / covered in traditional catering), or 4 days of activity.
A large drain valve 33/42 ensures the emptying of the tank without risk of clogging. As an option, we offer connection accessories, allowing you to optimize the connection time.
Quality:
Our grease traps are made of 304L stainless steel, food grade, to fit into any professional kitchen.
The weight of our grease traps BAGT®25 is 15kg, so a sufficient thickness of stainless steel to guarantee a good longevity of the material.
Meets standards:
The EN1825 standard applies to underground grease traps for equipment that can handle flow rates from 1 liter / second to 3600 liters / hour. Our BAGT®200N material complies with the EN1825 "size 1" rejection standard.
Installation:
The installation of the BAGT®25 grease trap is simple; you only need 1 to 2 hours for a good installation, corresponding to the standard conditions, with sufficient space under the preparation table with sink. Connection accessories are available. They optimize the assembly time. Refer to the installation instructions to understand the ease of installation.
Maintenance:
To maintain your BAGT®25 grease separators, the basket is the best tool. It allows to evacuate solid waste in the trash, but also to recover the fat if they are frozen.
In the opposite case, it will be necessary to use a ladle to release the greases. It is not necessary to eliminate all fats with each operation. It is better to leave grease in the grease trap than to put water in the UCO used cooking oil collector.
Find our guides in video: installation and maintenance
Find our guides in video : installation et entretien
Customer reviews
Reviews about this product
Show attestation
mode d'emploi de notre bac séparateur à graisses BAGT25, appareil simplifié par aux modèles BAGT ..N; Le BAGT40 n'a pas le système Gresae Back pour sortir la graisse collectée.
Download (1.63M)